Linda Sarsour, noted Palestinian-American civil rights leader and Executive Director of MPower Change spoke at Seattle's Rainier Arts Center  on Islamophobia and White Supremacy in January, 2023.
The event was hosted by Valley and Mountain Fellowship's Center for Faith, Art, and Justice in partnership with the United Church of Christ's Join the Movement Toward Racial Justice. The event was part of the Set Us Free from Fear: Faith, White Supremacy, and Politics series. The series invited scholars, clergy, and activists working at the intersection of race and faith to share their wisdom to our broader communities.
Sarsour was co-chair of the 2017 Women's March, the 2017 Day Without a  Woman, and the 2019 Women's March. She is also a former executive director of the Arab American Association of New York.  She is the author of We Are Not Here to Be Bystanders: A Memoir of Love and Resistance, published in March, 2020.
Producers: Valley and Mountain Fellowship, United Church in Christ's Join the Movement toward Racial Justice
Photo Linda Sarsour and Women's Media Center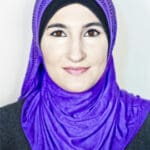 The Washington state chapter of the Council on American-Islamic Relations (CAIR-Washington) called on law enforcement authorities to investigate a possible bias motive for vandalism targeting  Umar Al-Farooq mosque in Mountlake Terrace.
What does it take to effectively demonstrate for human rights? Community organizer and writer, Magdaleno 'Leno' Rose-Avila reflects on his first protest in high school. (more…)
On Tuesday, May 18th, An Emergency Vigil in Solidarity with a Palestinian all for a General Strike was held at Jimi Hendrix Park, next to the Northwest African American Museum.  KBCS reporter, Fadumo Ali contributed this story about the event.
The anti-Sharia protest and its counter-protest in downtown Seattle on Saturday was a face-off of a smaller group of anti-Sharia protestors and a colorful and loud, larger group of counter-protesters. Between the two groups was a zone of about 50 feet lined with  rows of  police.  It was a noisy affair with counter-protestors blaring horns and the sound of a train whistle.  Listen to our series on what Sharia is, as shared by the people who attend the protest and counter-protest. (more…)
As anti-Muslim rhetoric continues locally, and around the U.S., we turn to the Owner of modest fashion Boutique Al Firdaus, Chema Oh.  She shares  how Muslim women are increasingly becoming targets for the way they dress in this current political climate.  She speaks with KBCS's Yuko Kodama. (more…)
Catch a glimpse of the lucrative industry of modest wear, which includes hijabs and abayas. KBCS's Yuko Kodama spoke with Boutique Al Firdaws Owner, Chema Oh. Her boutique is in the Muslim Association of Puget Sound mosque in Redmond. (more…)
The fashion of modest Muslim, Jewish and Sikh men and women is the inspiration of the Malikah Festival held this weekend. KBCS's Yuko Kodama interviewed Chema Oh, organizer for the Malikah Festival and Owner of Boutique Al Firdaws located in Redmond's Muslim Association of Puget Sound (MAPS) building this week. They discuss the power of the hijab.
The Malikah Festival is hosted in partnership with the City of Redmond and Zena Consulting. The event is this Saturday, May 6th at the Redmond Senior Center from 4pm to 8pm. It's free and open to all.
On the third Sunday of each month, a mosque in Redmond opens its doors as a free clinic to all, regardless of faith, race, gender and income. It's held at the Muslim Association of Puget Sound or MAPS, and it serves anyone, whether or not they have health care – no questions asked.  A small team of volunteer doctors with backgrounds in internal medicine, family medicine, pediatrics, cardiology, naturopathy and acupuncture attend to patients along with other medically trained help. KBCS's Jim Cantu brings you this story.
Photo of Nehat Sharif by Yuko Kodama
Recent news has been buzzing with stories about terrorist attacks, and another presidential ban on six Muslim-majority countries.  In this story, we highlight our local Muslim neighbors. The Muslim Association of Puget Sound is an active participant in our local community. Local American Muslim youth share their experiences from one project that provides food for the area's homeless population. Reyan Haji reports.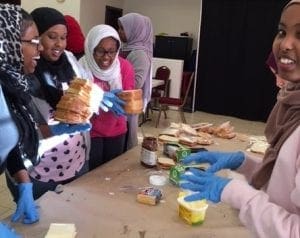 Putting a meal together.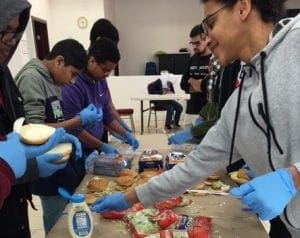 Getting them ready to go.