In 1956, Autherine Lucy, a Black student was expelled from University of Alabama within the first three days of starting a master's program in Education.  Lucy had enrolled at the school just after the Supreme Court case, Brown vs Board of Education deemed segregation of public schools illegal. It wasn't until 1988 that Lucy's expulsion was annulled and she re-enrolled in the same program.  She graduated in 1992.
KBCS's Ruthie Bly brings you this story about Autherine Lucy's commitment to pursue her master's degree.  This story is produced in partnership with Sankofa Impact. Sankofa Impact is a non-profit organization which hosts events and trips to engage community in informative and transformational discussion around the Black freedom struggle.
Producer: Ruthie Bly  Special Thanks to Valentina Cooper for help with editing this story.
Photo: Gene Herrick -AP News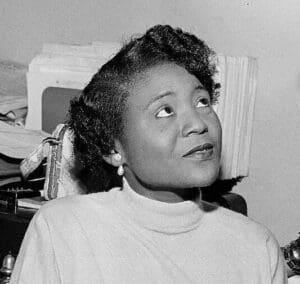 KBCS reporter, Kevin P. Henry interviewed two, local, Black mental health counselors. They discuss how Black communities and communities of color can be emotionally impacted and traumatized in hearing about these racially motivated incidents. Find out how this may play out among friendships and co-workers, and some suggestions on how to help. (more…)
(This story originally aired in February of 2020.)
During the 1960's, Jimmie Lee Jackson tried registering to vote multiple times without success in Marion Alabama.  These experiences activated him to take up the cause for the right to vote.  His efforts, and finally his murder, led to a march which resulted in Bloody Sunday in Selma, Alabama during 1965.
Thousands took the streets in Seattle on Monday for the 38th annual Martin Luther King Jr Day March. KBCS's Gol Hoghooghi and Yuko Kodama gathered sounds and interviews from the celebration.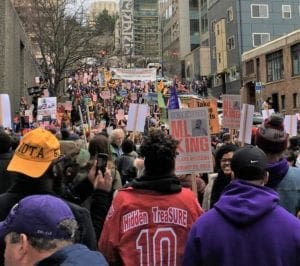 The NAACP's first Mississippi field secretary, Medgar Evers was a civil rights leader who organized voter-registration efforts, economic boycotts, and investigated crimes perpetrated against blacks in the south. (more…)
In May, the wreckage of the last slave ship to the United States was confirmed found off the shores of Mobile Alabama.  Attorney, Justice, and Historian, Karlos Finley, explains the significance of the slaveship, Clotilda, for the descendants of those enslaved people transported here inside it  in 1860. Finley also describes the remarkable community that many of the people who came on that ship created in Africa Town, Alabama. (more…)
On September 15th, 1963, the 16th Street Baptist Church was bombed by the Ku Klux Klan, killing four young girls. This bombing marked a turning point in the United States during the Civil Rights Movement, and contributed to support for passage of the Civil Rights Act of 1964. Dr. Carolyn McKinstry was 15 years old at the time, and was in the building when the bomb exploded. Dr. McKinstry addressed participants of Project Pilgrimage, an immersive civil rights journey about that day in 2018.
90 years ago Tuesday January 15th 1929 Martin Luther King Jr. was born. At the age of 26 he became a key leader in the modern American Civil Rights Movement. He is well known for promoting non-violence. A way of life that Dr. Bernard LaFayette Jr., who worked with Dr. King, promotes to this day.
While in the Seattle area last year with Project Pilgrimage, Dr. LaFayette sat down with 91 3's Ruthie Bly in a restaurant and shared the difference between non-violence and equal justice.
Dr. Bernard LaFayette worked closely with Dr. King and carries on his legacy today with Kingian Nonviolence training. He also chairs the board of another Dr. King legacy: the Southern Christian Leadership Conference.
Special thanks to Project Pilgrimage for arranging the interview.
We ride buses so easily today that we may forget our nation's history just 60 years ago. Today on Unmute the Commute, join us on a Freedom Ride. Produced by former KBCS News Director Sonya Green and Winona Hollins Hauge of Project Pilgrimage. Former Freedom Rider Dr. Bernard Lafayette will be in Seattle on April 21st and 22nd to present a workshop on non-violence. More details to attend.
Photo Credit: Perry Aycock, Brittanica
Unmute the Commute is a weekly series highlighting commuter stories, supported in part by King County Metro's Just One Trip.
In 1961, Dr. Bob Zellner was a 20 year old student in Alabama when he joined a march to protest the murder of a black man who had registered to vote.  You'll listen to him describe how this nearly cost him his life.
Dr. Bob Zellner is a civil rights leader who hosts tours on the University of Washington's Project Pilgrimage, an educational tour of civil rights sites.  KBCS's Gospel Highway host, Winona Hollins Hague recorded this audio from last month's event.