DAN TYMINSKI FEATURING GAVEN LARGENT
Throughout his 30+ year career, Dan Tyminski has left his mark in every corner of modern music. Tyminski's voice famously accompanies George Clooney's performance of the Stanley Brother's Classic song, "I'm A Man of Constant Sorrow," in the film, Oh Brother, Where Art Thou and his vocal collaboration with Swedish DJ Avicii on the song "Hey, Brother" was a global smash, having been streamed over 1 billion times to date.
Dan has also contributed guitar and/or harmony to projects by Martina McBride, Reba McEntire, Brad Paisley, Dolly Parton, Willie Nelson, Kenny Chesney, LeAnn Rimes, Aaron Lewis and Rob Thomas, to name a few. In addition to his highly successful solo career, Dan Tyminski has played guitar and mandolin for Alison Krauss and Union Station since 1994. His unmatched instrumental skills and burnished, soulful tenor voice have been key components of the band.
Dan has been honored with 14 Grammy Awards, was named Male Vocalist of the Year by the International Bluegrass Music Association 4x and was recognized as 2004's Male Vocalist of the Year by the Society for the Preservation of Bluegrass Music in America.
The Dan Tyminski Band will be on tour throughout 2022 and 2023 in support of two forthcoming projects: an EP celebrating Tony Rice's legacy, and a full-length bluegrass album early in 2023. The Dan Tyminski Band is Gaven Largent (dobro), Maddie Denton (fiddle), Jason Davis (banjo), Grace Davis (bass) and Harry Clark (mandolin).
GAVIN LARGENT
A proud Virginia native, Gaven has been steeped in the culture and music of bluegrass since his infancy. After graduating high school, he toured with Michael Cleveland and Flamekeeper for a year before joining bluegrass super-group Blue Highway. It was with Blue Highway that Gaven received a Grammy nomination for their album, "Original Traditional." After a three-year international tour playing dobro with Blue Highway, Gaven joined Dailey and Vincent on both dobro and banjo, before joining up with Dan Tyminski. Though touring and session work keep Gaven busy, he enjoys building his own dobros in his woodworking shop, and hunting and fishing.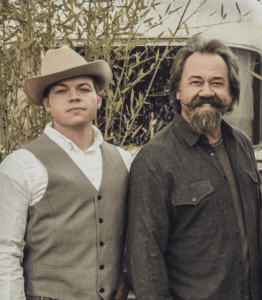 The Darrell Scott Bluegrass Band is a hot "super group" of musicians:
–Bryn Davies on upright bass & vocals (guy clark, tony rice, peter rowan, patty griffin)
–Shad Cobb on fiddle & vocals (mark oconnor, robbie fulks, tim o'brien)
–Matt Flinner on banjo & mandolin (leftover salmon, trey anastasio, matt flinner trio)
–Darrell Scott on guitar & vocals (Sam Bush, Robert Plant, Steve Earle & Bluegrass Dukes)
"Having traveled in the bluegrass festival circuit for over 25 years, I have seen the best of the best and these players are THAT…the brightest and most fearless I know", says Darrell," we listen as intently as we play and sing, and are ready to turn at every moment to follow where the music leads while doing our own songs as our basis."
The Darrell Scott Bluegrass Band follows Darrell's songs with Bluegrass instrumentation – the end result being as close to Newgrass and Improv as it is to Singer/Songwriter, with all members contributing their own tunes, as well. This is hot playing, soulful singing and nimble ensemble work at its' Bluegrass, Newgrass, Americana, Singer/Songwritery, fiery best.
The band is composed of brothers Jack Torrey (guitar, vocals) and Page Burkum (guitar, vocals) with a touring act including their cousin Phillip Hicks (bass), Jake Hanson (guitar) and Jeremy Hanson (drums).
The band's musical styling of "the sounds and approaches of early country and rock n' roll" was inspired by traditional American folk music and "hillbilly" music and is "reminiscent of 60s Nashville and Los Angeles as heard in artists like Roy Orbison, The Byrds, and Duane Eddy."
Brothers Jack Torrey and Page Burkum began playing music today at ages 18 and 23, respectively but didn't form the band The Cactus Blossoms until they were both in their 30s. The band began playing local shows in Minneapolis in 2010 and self produced and released a self-titled debut album in 2011.  Their popularity secured them a residency at St. Paul's Turf Club where they self-produced their first live album titled Live at the Turf Club.
After several tours supporting other artists, JD McPherson proposed working together, where he would produce their first studio album. In 2015 the band signed with Red House Records and on January 22, 2016 released their first studio album titled You're Dreaming. The album reached #23 on the Americana Billboard chart and was met with favorable reviews with American Songwriter describing it as "honest, unvarnished, completely engaging style that is clearly retro but in no way musty."
The band was contacted by David Lynch's office to appear in the revival season of the televisions series Twin Peaks where the band performed "Mississippi". The song is also featured on the soundtrack album, Twin Peaks: Music from the Limited Event Series.
In 2017 the band was invited by Dan Auerbach to his Nashville studio to write some songs together. Two of the songs, "Got a Lotta Love" and "Blue as the Ocean" appeared on their studio album Easy Way which released March 1, 2019. Departing Red House Records, the album was released on the band's own Walkie Talkie Records label.
After taking a forced hiatus due to the COVID-19 pandemic and experiencing the protests in Minneapolis following the murder of George Floyd, the band began recording their third studio album in an at-home studio. The band's third album, One Day, was released on February 11, 2022.
Every year, the nooks and crannies of the hallways of a fancy, downtown Bellevue hotel are filled with bluegrass music during the Wintergrass Music Festival.  Wintergrass is a northwest bluegrass festival tradition bringing the region bluegrass artists from around the world, workshops on this musical genre and techniques, and a youth camp for the children on mid-winter break.  KBCS introduces you to a little of the culture behind a bluegrass festival – the jamming.